Data Science Day 2023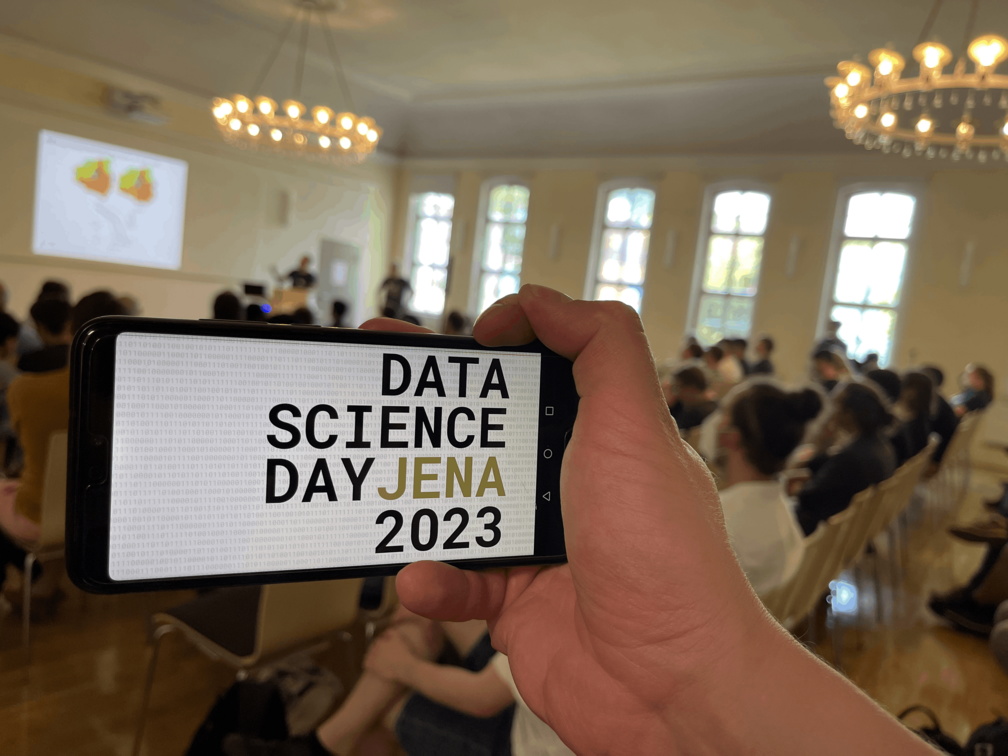 Welcome to the fifth Data Science Day in Jena! This event, organized by the Institute of Computer Science, aims to bring together data enthusiasts from both business and science sectors. It provides a platform for knowledge exchange, showcasing innovative solutions, and exploring the challenges and opportunities in the field of data science.
The Data Science Day in Jena offers a range of engaging activities including presentations from distinguished speakers, a scientific poster session, a company exhibition, and ample networking opportunities. Whether you are from the development, management, research, or education field, this event is designed to inspire and connect data enthusiasts.
Talks
Below is a list of talks scheduled for the Data Science Day:
| Talk | Speaker(s) |
| --- | --- |
| Keynote: The Magic of Knowledge Graphs [English] | Hannah Bast (University of Freiburg) |
| Data science from academia to industry - lessons learned [English] | Frank Nussbaum (Jenoptik AG Jena) |
| Urbane Datenplattform Jena - Datenorchestrierung in und trotz verteilter Verwaltungsstrukturen [German] | Stefan Bischof & Martin Berger (Smart City Projekt Jena / Stadtverwaltung Jena) |
| Das Projekt MoVeKI2EAH: KI-Lehre für angewandte Wissenschaften [German] | Christopher Schneider & Christina B. Class (Ernst-Abbe-Hochschule Jena) |
| Uncertainties in Neural Networks [English] | Jacob Gawlikowski (DLR Institut of Data Science) |
| Capstone: Systemsoftware in Jena: Von der Performance-orientierten Programmierung paralleler Systeme zur Ressourcen-bewussten Programmierung cyber-physikalischer Systeme und Green Computing [English] | Clemens Grelck (Friedrich Schiller University Jena) |
Companies
The Data Science Day in Jena also features a company exhibition where you can meet representatives from various data science organizations. Here are some of the companies participating in the event:
Jena Digital e. V.
Accenture Technology Solutions GmbH
Jenoptik AG
Stadtverwaltung Jena / Smart City
d-fine GmbH
Xceptance Software Technologies GmbH
Alpha Analytics UG & Co. KG
ELLIS Unit Jena
DAKO GmbH
Kompetenzzentrum Digitale Forschung (zedif), FSU Jena
Inverso GmbH
dotSource GmbH
Poster Session
For the first time, the Data Science Day in Jena includes a scientific poster session. You can download Book of Abstracts for Poster Session. This book provides an overview of the research and solutions that will be presented during the poster session.
We look forward to welcoming you at the Data Science Day in Jena, where you can immerse yourself in the latest advancements, connect with industry professionals, and contribute to the vibrant data science community.